Short entry (no honestly!) due to left hand resembling cartoon bandaged limb with unnecessary amounts of dressing, splinting and bandaging for what is essentially a tiny cannula just in a very tricky vein. It amuses me that I look perfectly well except for said mummyhand - had similar accessory last month which resulted a friend turning up and saying in horror "oh my god what happened?" obviously thinking I had omitted to tell her about a car crash incident or something). Anyway back to short update: Such a fantastic weekend…I went was allowed out for the full weekend (so overnight release for the first time in 5 ½ weeks) and it was so good!

I left the hospital Saturday afternoon with medication and IV bags packed for my first night at home. I set off with some trepidation I must admit, but I shouldn't have worried. Saturday was lovely and relaxed, and then Sunday was my grandma's birthday. A large wedge of family (including ex flat-mate who popped in to visit and was promptly scooped up by family and set down at a place setting) invaded a local Carvery and sat and had a lovely meal, then back to my parents for cake and cheese and crackers (as clearly we hadn't been fed enough). The weather was lovely so we sat in the garden, chatting, eating, laughing, sporadic jibes at the younger members (GCSE related this time) and the odd flared temper and snappy comment - generally having a bog standard normal family get together. The perfect afternoon.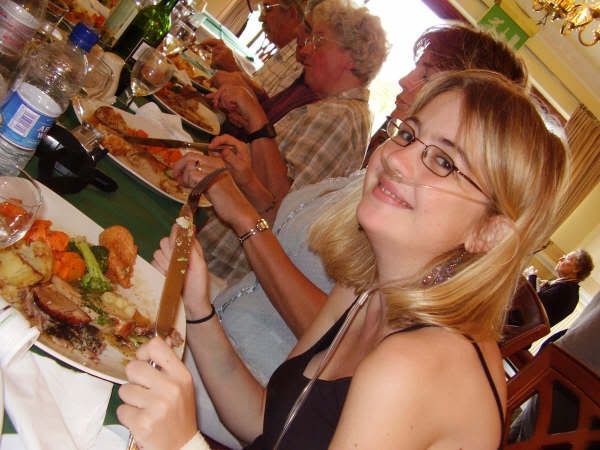 Regaining my appetite then!


I dozed off in the afternoon and woke up about 9.45pm to find most people had left having tried in vain to say goodbye to me with limited success (I would open my eyes, make convincing sounding noises as if I was about to sit up and pay attention nicely then go back to sleep) but seeing as that night I also slept soundly, I obviously needed to catch up! I came back yesterday afternoon tired but refreshed. Lung continuing to be nice and inflatey, fluid is lessening and most excitingly, after 6 weeks, they mentioned the prospect of discharge for the first time! Plus of course writing this one-handed was an achievement in itself, so am off for a hot chocolate to celebrate!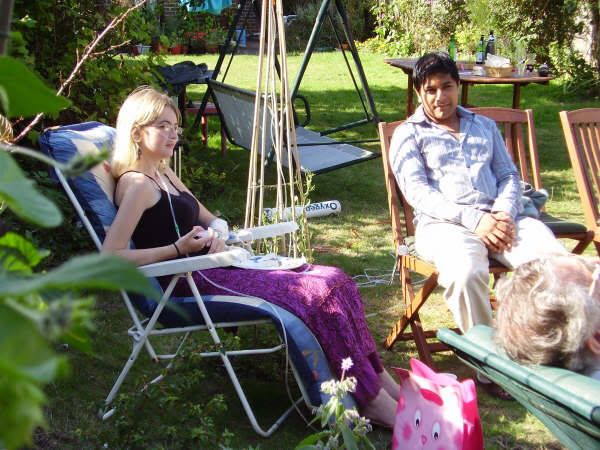 IVing nicely in the garden. Note v creative beanpole dripstand and fetching pinkcat IV carry case...