The quickest of quick updates as I am soooo tired but firstly and most importantly I had the best day ever today as I MADE IT to the wedding! YAAAAAAAAAAAAY! And here is a picture of me and the beautiful radiant bride as proof.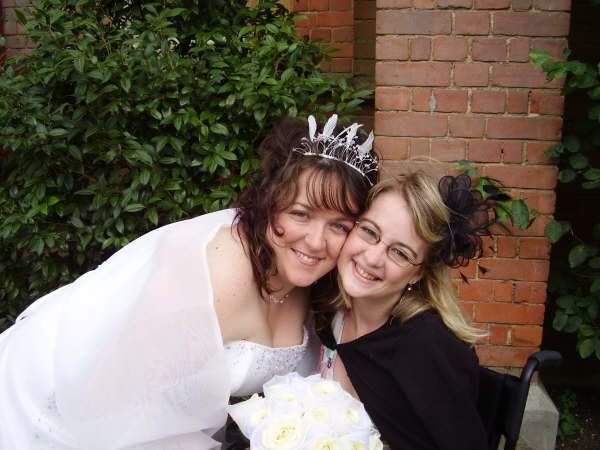 It was a gorgeous ceremony, and Mrs W, I wish you every future happiness as you so deserve it my special friend.

Sorry for the lack of updates but I have been back on HDU but this was predominantly a safety precaution. The last couple of days have been a tad draining (worst pun in the history of mankind I do apologise) but the short version is, I had my 4th pneumo which this time was at the front of the lung. Having realised the drain (at the back of the lung) was not only failing miserably at doing its job (not really its fault as it wasn't in the right place) but was also wedged precariously right near a large vessel (a bit more its fault) they decided the clear and obvious answer to all my lung collapsing problems would be to have no drain at all. Weirdly I could not quite see this and so in a mature and calm manner I explained my concerns to the surgeon. Or I may have sobbed pathetically "go away you aren't taking it out" at him, but that's a minor detail. Quite a few hours of arguing and a LOT of discussion later (where they did in fact explain more fully that this was the only option as you cant put a drain in when the lung is technically up, we would have to wait for it to fall down again to put another one in anyway) as a compromise for my state of mind, we agreed to clamp the drain for 24 hours as if it all went wrong at least all they had to do was unclamp. It made me feel better anyway.

24 hours later with one lung hanging on with grim determination, out came the drain. It was then a question of wait and see, and happily, my lung behaved in an impeccable manner, so when the surgeon came in at 10am this morning to review my Xray (taken an hour previously) she confirmed that she felt it was safe for me to go. Hair, makeup and wardrobe arrived (aka my mum and sister) and then armed with a letter, which dictated exactly where my pneumo is situated and basically instructs any paramedic exactly what to do, I set out on my first proper trip away from the hospital. Yes it was scary but it was worth it a million times over and I wouldn't have missed it for the world.

Why do I ever bother writing "just a quick update" when anyone who knows me knows that will blatantly prove to be untrue!