Huge moment yesterday – I went swimming. OK that may not sound like a huge moment, but I haven't been swimming for well over two years, possibly closer to three. Even in the run up to me using oxygen 24/7 the sheer effort involved in the whole procedure, walking there, stairs (of which there are often many) getting changed, actually swimming, getting showered and dry (huge issue when constantly breathless) and getting changed again seemed far to huge an obstacle to overcome. Since my transplant I have been building up strength and waiting for the time that the risk (and there is always a risk as I am immunosuppressed) of picking up bugs is at its smallest.
So yesterday, after a significant amount of nagging from my mother who was not moved by me pointing to my diaphragm and reminding her it was paralysed, we drove to our local gym and pool to sign me up – a years membership being a birthday gift from my lovely grandparents. As we pulled up to the centre, I had butterflies in my tummy. It really shouldn't have been a big deal at all but to me it was another landmark, another sign of returning to a life that somewhat resembles normal. We walked up the stairs, leaving Abby to study in the café but be able to wave at me through the window, and my mother and I disappeared into the changing rooms.
As I child, I used to accompany my mother on her ticket, and so spent many happy hours there splashing around and racing my parents or my sisters up and down the pool. I have always been a bit of a water baby, and used to swim regularly once a week for as long as I can remember; something which I attribute the strength of my old lungs to, and one of the key reasons they managed to keep on working right to the end. Apparently on one holiday very early on, we arrived at the poolside and with a squeal of delight I hurtled myself into it, completely oblivious of the fact that a) I required armbands to stay afloat and b) this was the deep end of a rather large pool therefore had to be promptly rescued.
Anyway back to yesterday. We walked down the corridor and onto the poolside. It was fairly quiet, with only one or two members dotted around, casually making their way up and down the length of the pool or sitting relaxing in the Jacuzzi. I suggested to my mother that I sit and watch her first, which did not go down as well as I would have hoped. So instead I was swiftly cajoled into walking down the steps into the pool, where my mother took off and swam rapidly to the other side. I stood there, with water up to my knees, and looked down at the pool. I am not scared of water, never have been (as my childhood kamikaze attempt demonstrates) but somehow I couldn't quite bring myself to launch in with carefree abandonment. I slowly edged myself in, bit by bit, the feeling of being immersed in water was strange and took me back to being on holiday in Greece where I would spend hours just floating or swimming in the sea.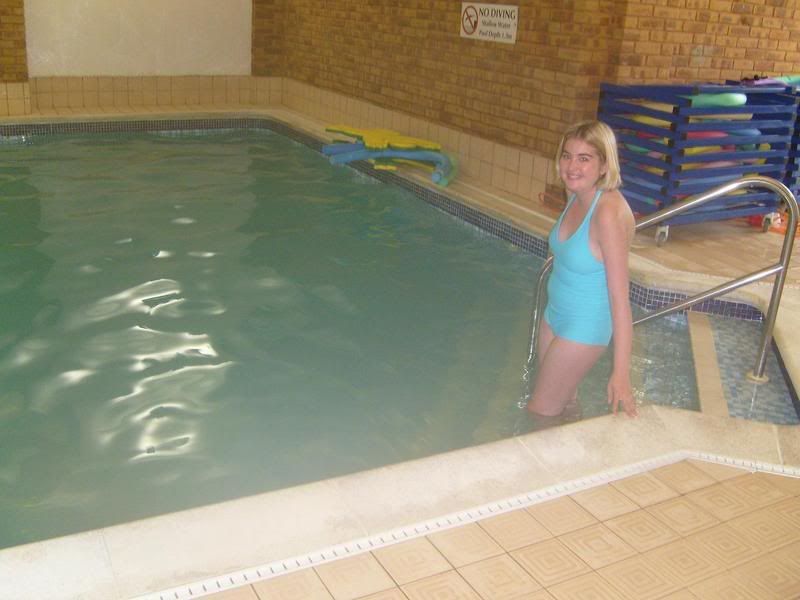 I finally decided that feeling though I was as if I was about to launch myself out of an airplane, this was a tad melodramatic and grabbing hold of the edge, I pulled myself into the pool so I was completely immersed. Swimming is like riding a bike, once learned never forgotten, and I quickly found my water wings again. Being in the water was just such a liberating feeling, and in a completely over exited way I challenged my mother to a race (which I won incidentally) suitably knackering myself out by the time I got to the far side. We swam about a bit more until I got a stitch and decided to call it a day, sitting myself on the side of the pool dangling my legs in the water.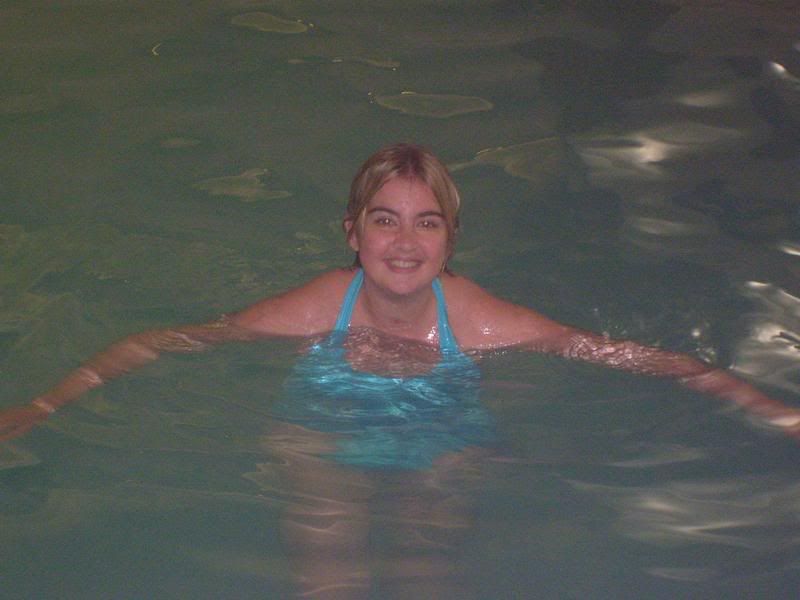 The whole experience was just so strange, it was something that took me back to my childhood, to a time where I had little concept of what being really ill was, and then represented something I thought I might never be able to do again. Needless to say, I arrived home exhausted but beaming, and I am looking forward to going again, and this time braving it to the gym (where I really need to start my training schedule to try and work up to this 5k in September!) Freedom. Freedom to walk, to climb, to swim, to talk…to breathe.