I am back within my four little powder blue walls, the slightly too neon bed light shining brightly and the fan whirring quietly in the background – but what a blissful weekend that was – I am so lucky to have such a wonderful little home to yearn for (not to mention the obviously wonderful people who make it so) and you know the nicest thing? It's always better when I get there than how I was imagining it. I was feeling slightly fragile when picked up on Saturday which A detected immediately and consequently I was transferred from hospital to car to parents house in 5 star rating style (how is it that no matter how poorly I am he manages to make me feel like a princess rather than an invalid). We stopped for lunch at my parents – gorgeous yummy salady stuff (oh how much I long for a salad when in here which sounds ridiculous but fresh food is scarce and rare in hospital) and I was spoilt thoroughly there for a while, before returning to little house to curl up on the sofa…and fall fast asleep. What a waste of precious time there but I can't help it; the minute I sink down I can feel muscles that I wasn't even aware were tense relaxing and within minutes I am dead to the world. A obligingly put on and watched entire film before gently rousing me for dinner. A lovely quiet evening ensued (surrounded by the pink balloons and banners A's mum had adorned the house with in my honour) and I slept soundly in my very own bed. Observant blog readers may well notice distinct lack of pink in lounge (comparatively I mean) our lounge is all gorgeous earthy natural colours (I had huge fun "dressing" it when we moved in) demonstrating I can actually stray away from it sometimes you know…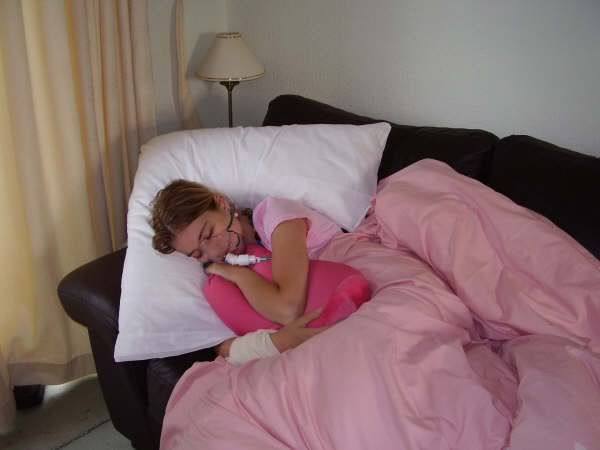 Dozing on the sofa...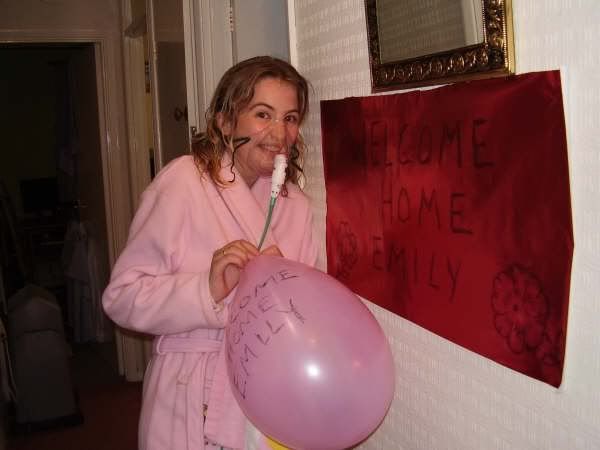 Yay welcome home me!

Pink and smiley cake was transported home for all to admire in its glittery fabulousness, and grandma even commented on its quality (a compliment far more worth having a) because she is an expert, particularly at fruitcake, and b) because her compliment consisted of more lengthy and technical wording than "mmm itsh gwd" due to mouth full of cake, as uttered by me and my mother). Today large dinner of the roast variety was consumed (a la daddy, my favourite) and general family misbehaviour and talking (only missing Lu who is uni-ing and who we did toast to) interspersed with more dozing on my part. Feel absolutely brilliant for having been home and cant wait to get a bit stronger and return slightly longer term, yay!
Just a tiny bit excited to be in own bed then.

Since being back I have mostly been nebbing and physioing (neubuliser = inhalation of drugs to help breathing, physiotherapy = various breathing techniques to aid clearance of lungs, for anyone who doesn't know!) as naughty lungs are throwing a mini strop this evening - probably due to returning to hospital when they were quite clearly happy at home). Physio has never been the easiest of things for me to do as (following now typical procedure) my lungs behave in a most disobedient and naughty manner, pretending at first that there is lots to clear by rattling away merrily thus duping physiotherapist into settling down to do some good work with me, then merely one cycle in and lungs are squeaking with glee, a tight and wheezy as anything forcing us to abort all attempts. Most affective methods of physiotherapy for me include anything which may appear not to actually be physio (thus tricking my lungs into thinking they aren't actually doing it at all I suppose). Much like one would have to do with a five year old child then…