People have asked me before if I have any kind of belief, or faith that keeps me going. I would say that I do, but it is not of the religious variety – I have a faith in myself (oh dear this is already sounding completely over egotistical) and in people.
I sometimes feel quite removed when looking back at what my body seems to overcome, replaying it in my head and watching with the quiet awe of a detached spectator. And whilst ok it is not the most well behaved of bodies, and is slightly melodramatic in temperament, when the cards are down it really does manage to battle through some pretty undefeatable scenarios.
I have faith in people because time and time again if I am feeling down, or struggling or waning in energy and enthusiasm, people carry me through. Most commonly (and obviously) it is my family, who seem to know innately whether I require an abundance of foot rubs and hand holding, or whether actually what I need is turfing out of bed and wheeling down the road, regardless of the look of complete pouty rage I am then sporting as actually what I fancied doing was hiding under the covers and scowling at anyone in sight.
And then of course, there is my extended support network, which begins with friends who time and time again put up with emails, phone conversations and visits which seem to revolve around me and my lungs. This support network however stretches out to all sorts of amazing areas, to people I don't even know. I have received so many lovely messages, emails, cards (there are well over 100 in my room now) and letters, not to mention presents from all of the above. I am thoroughly spoilt, and I know it, and I love it, and I am thankful for it. But because I hardly ever get round to saying so individually (I would blame this entirely on poor health but those who know me well know even if I was well there would be little chance of me getting my act together enough to write thank you cards or anything) I wanted to just vocalize how much of a difference this does make. You never know exactly how much even just the words "thinking of you" can mean to someone. Classic example – literally minutes before my pleuradhesis last week, the post arrived, with several lovely presents and two cards, which distracted my attention significantly (a bit like how you wave something colourful and shiny at a baby before giving it a flu jab).
This post has been in the pipeline a while, but was prompted by the arrival of today's large brown formal looking package. Imagine my surprise (and delight) to have it cut open for me (automatic job now done by nurses following a small incident involving scissors, a plastered finger and pouty face a few weeks ago) and to find many many tubs of sweetiebobbles with the only explanation being a small note from the company, Supercook, urging me to enjoy my favourite indulgence! Incidentally large pink über-cuddly dog (who is called Noodle) pictured staring in awe at said sweetiebobble collection was sent to me by another company called rockedout.com, who discovered that I rather like all things pink and fluffy and sent Noodle to me to keep me smiling. As I may have already pointed out in this post, I am clearly very spoilt, and now proud owner of quite possibly the largest and most extensive collection of sweetiebobbles in the entire world.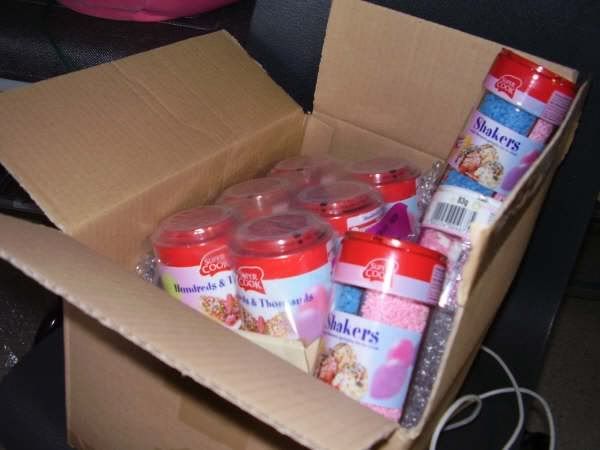 Anyway the point of this is to say that everyone's support really does make a difference, and has done all the way through. When I was in intensive care and HDU my parents and sisters were reading out messages to me from here, from forums and from emails, and are pretty convinced that it helped significantly. People support me and help me through.
I get strength from people because they are what I love about life. You can make a difference to someone without even meaning to which can make a mark on their life forever. I am not saying it is all good because I am not that stupid or naïve (even though this post is sounding vaguely hippy) but I genuinely have multiple examples and reasons to demonstrate what a positive impact small actions can have. A nurse was talking to me just last night about a patient she nursed once right at the beginning of her career. This patient was quite unwell and the nurse came away feeling deflated and that she hadn't done enough and clearly nursing was not the right job for her. The patient however left her a note, thanking her for all she had done and highlighting the ways in which she had made a difference. That note, whilst scribbled in passing by one patient on one admission is the reason she is still nursing today.
It isn't just actions directly related to me which I utilize and take strength from - it is also important to look to other people and stay in touch with their lives to ensure that you remember that everyone has their own problems, worries and issues, which is incredibly healthy as it keeps mine in perspective. The world does not stop turning just because my lung has decided to sit down on strike, plus seeing how someone else deals with their own problems can help me tackle mine. I also need to have faith in people of course because ultimately it is going to be a person who makes the decision to sign the organ donor register - combined with a family who makes the decision to ensure those wishes are carried out, perhaps in spite of their own grief - which will hopefully save my life. It all comes back to the idea of choice again (check the name of my blog for clarification of my views on that) – it's not that people always do good things, it is that I am inspired by the many examples of when they choose to do so.
This is why I believe in people.
Good grief I waffle far too much and still have more to say but think I should stop there. Quick summary health wise then for anyone who is still awake; we are definitely still headed in the right direction and drawing ever nearer to "extended leave" (and by that I am talking in code and mean extended for a very long time but just don't want my lungs to get wind of it just yet). I have decided it is high time I was going home now, hopefully release is now in the pipeline somewhere. Not so much because this is week 11 (77 days tomorrow since my lung first collapsed) but more because A has started including items such as lilt and bounty bars in his 5 a day - a clear sign I have been gone too long…