Sidestepping my story again...It is exactly one month since I was discharged from Harefield and looking back at my recovery so far it is clear how far I have already come. Each day I have found myself growing increasingly stronger; my shakes – which started out so strong I couldn't hold a cup of tea without spilling it - have almost faded to nothing. I no longer need to push myself up from a chair with my hands, as my legs are now strong enough. I find myself grinning inanely sporadically throughout the day, for example after going through a door and automatically reaching for the tubing which gets caught under the door which of course is no longer there. Every day there are a thousand little moments where I stop and think "I can't believe I am doing this, I can't believe I got my transplant" and have to pinch myself to believe it is all real. Some highlights and landmark moments are as follows:

Cooking a meal for myself for the first time since the op

Bending down to pick stuff up off the floor/do my shoes up (the latter being the more common phenomenon) and not getting breathless.

Visiting several friends' houses I haven't been able to go to for ages because they live upstairs.

Walking round my garden (my tubing didn't previously stretch far enough)

Having a bath without becoming breathless and exhausted

Being able to dry myself without above consequences

Being dropped off by A and getting out the car myself and walking to my destination, no assistance required.

Going shopping on foot, not in my wheelchair, and being able to see over the clothes rails for the first time in years.

Going to the hairdressers instead of her having to come to my house.

Eating a huge meal, feeling really full…but still being able to breathe.

Going and going until I become tired, then resting and my energy comes back, as opposed to entering a vicious cycle where breathing becomes increasingly impossible.

Driving in the sunshine, singing along to the radio.

And of course walking out of the front door, with just my keys in my hand, and striding down the road.
Today we celebrated my first month of freedom by doing a Thackray girls trip to the seaside. It was the most beautiful day, spent with ladies (I can't call my baby sisters girls anymore really!) who have been there constantly for me, but usually having to care for and help me, unlike today when we were just relaxing in each others company.
I ran for the first time today, rather resembled a young animal unsteady on its new legs I think but it felt great. I ran straight into the sea and got my impractical long white skirt soaking wet. Brilliant.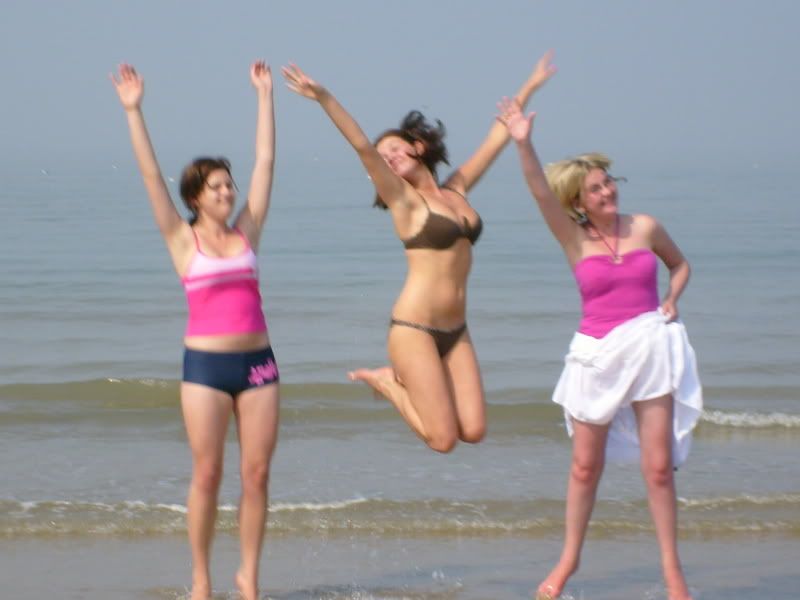 Lucy in the middle auditioning for Fame or similar…my attempt at leaping gracefully not quite as successful.